1. Wow, did anyone else watch the Syracuse vs Uconn game last night? My boyfriend wrangled me into it after the first overtime. It went to SIX overtimes before Syracuse pulled out the win! Since I went to Syracuse University and was a senior when we won the March Madness championship in 2003 thanks to Carmelo Anthony, they are the only sports team I really root for. Go 'Cuse! I really only attended basketball games in college to guy watch since that's where I could find all the cute guys. Eventually though as we kept winning my senior year, I stopped paying attention to the eye candy and focused on the game itself.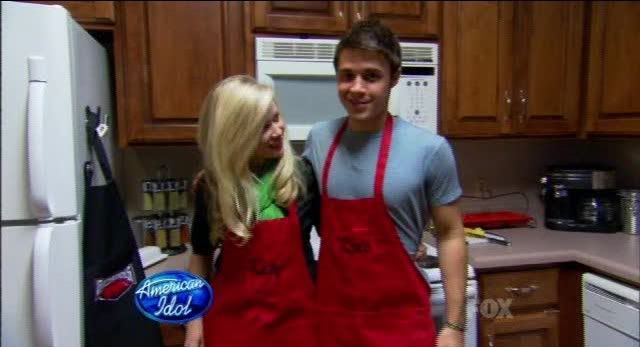 2. Speaking on eye candy, I know some people prefer
to vote on American Idol based on singing ability. I like to base my vote on how crush-worthy the contestants are. Thankfully this isn't creepy yet since I'm still close in age to some of them, ha. My crush-of-the-week is Kris Allen. Unfortunately he's married and his wife is adorable. I guess maybe that's a good thing since, you know, I already have a boyfriend. And also no chance with Kris. But whatever, I can still crush on him from afar. At least he's in the same decade unlike Jordan Catalano circa 1995.


3. The pre-published writer in me is totally jealous when newly published writers show off photos of their book on the shelf of bookstores. At the same time, I do love going into a store and feeling proud of all the authors there. It's bittersweet! Anyway, yesterday I had a similar experience. Seeing my graphics on TV isn't exciting anymore because it happens so often, I barely even pay attention. Sometimes I just look at the screen and deadpan, "Oh, I made that." A few years ago I worked on a CG Barbie movie released straight to DVD. Though I have a copy of the DVD from Amazon (and a blank diary that came with it that I actually use to take writing notes sometimes), I've never actually seen the DVD on store shelves. Until yesterday! Thanks to all your wonderful suggestions for research material, I trekked over to Blockbuster and while perusing the shelves, I spotted my DVD. FACE OUT! There were several copies, though hopefully a few are already checked out, hehe.
4. I'm very excited for the NY Teen Author festival next week! I can only attend Monday's event, but I can't wait for it.
5. Things are coming together for my retelling project. After yesterday's post, I jotted down a few ideas and they are starting to solidify. I'm very excited! I'm mostly taking the week to research and mull things over so I can come up with a concrete plan for revision/rewriting. In the meantime, I've been working on revising Misjudged on the side. This is the one I had a love affair with and wrote in like two weeks? Surprisingly after 6 weeks away, I still love it. It's not crap! That's exciting. I'm hoping to get the entire thing revised by next Wednesday and off to my fabulous critique partner. This way I can leave the computer behind when I go to my grandmother's in Florida and bring only the alpha smart, which will help me work on a new draft of the super secret retelling without being distracted by the Internet! The iPhone will still keep me in touch with reality. Unfortunately it won't prevent me from obsessing over my email and submission news. And I still have twitter on it, thank God, because I'm totally addicted.