(Note: I didn't have time to get up the Veronica Mars discussion yesterday because I got swamped with work and an uncooperating computer. So see bullet point 5 for this week's discussion.)
1. Speaking of the computer. I've had a graphics work station in my apartment for about 7 years now. Turns out though that computers don't have that long of a life span. I mostly did work on it in SD video (i.e. lower resolution and square shaped) back in the day and haven't had a work-from-home job in a while. I just started one that requires HD footage and the computer FREAKED OUT. First it rebelled by ignoring the keyboard that was clearly plugged in and installed. Then it was like, "Folder? You want to open a FOLDER? That's absurd. I'm just going to sit here and blink at you. LA LA LA. I can't here you!" That apparently wasn't enough to sway me away so it went and got infected with a virus. My computer is suicidal.
Well, HA, computer. You're being replaced. My husband is building me a brand new graphics computer from scratch that will make you look like a simple calculator! It was so cute watching him. I don't know what the hell he's doing, just that it sometimes involved me plugging various things into the mother board (???) because I have smaller hands. He's so awesome. So hopefully I'll be up and running this weekend with my shiny new graphics computer. I still have my trusty mac for writing/internet surfing.
2. I am jealous of everyone going to SCBWI LA but I will counteract that jealousy by saying that I preordered Mockingjay for the Books of Wonder release party on August 23rd! So there!
3. There's still plenty of time to enter my contest to win INFINITE DAYS. Just saying…
4. Why am I so addicted to BIG BROTHER? I don't even really like anyone in the cast that much.
5.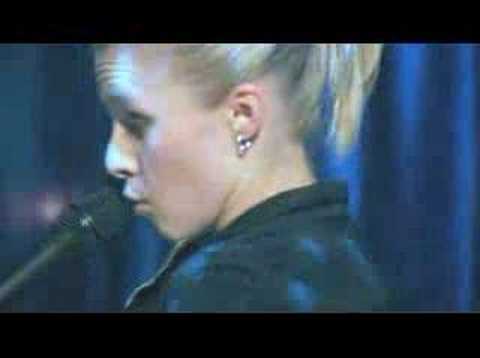 This is probably one of my favorite episodes. It has so much going on. Clues to Lilly's murder! Veronica singing! Awesome dialogue! ("Veronica Mars is…smarter than me." "Oh, you stop it!") A great mystery of the week! Logan being awesome! Veronica being clever! (The display with the time lapse cameras, anyone?) Veronica making the most out of a bad situation! She's suspended. Most kids would be upset about it. Not Veronica, she sees it to her advantage so she can eavesdrop on the guidance counselor's sessions with the other kids.
We learn a lot during those sessions. Duncan is on meds? Weevil loved Lilly? Logan blames Veronica for Lilly's murder? It was definitely interesting to hear their side of the situation and watch Veronica's sneaky ways of doing it.
I also love the misdirection with the school's secret society. Veronica–and the viewer–is led to believe they're hazing people hard core and they're a society to be feared. Really, they're just a bunch of lame boys doing silly pranks like streaking and karaoke. I also like when Duncan has to speak in gibberish to Veronica. Believe it or not, this episode ended up being good research for my new WIP, though I had forgotten all about it before I watched.
I thought the mystery of the week was really well done as well. I remember not figuring it out when I first watched and all the motivations were completely believable.
Also, one more shout out for the way Veronica solves this particular crime. I thought it was really clever, especially the line about the dollar bill and Veronica Mars being smarter than Lamb. I also like the part where Veronica takes a look at the HORRIBLE piece of crap fake ID and she says, "Not only am I falsely accused, I'm genuinely offended." Ahh, I love her.
The only part I didn't love or maybe believe was the end with Lynn on the bridge. I always hoped that was a red herring. It just seems like a very extreme reaction that wasn't built up enough.
What did you think?