1. I'm still working on my REVISING VOICE post. I've been sharing a computer at work and trying to get my new website finished at night so I can change it over this weekend. Plus I have something timely I want to discuss today (see bullet point #4) Therefore, I will be posting about revising voice on Monday. Get excited, it will be epic!
2. I am eagerly looking forward to Kidlit drinks on Friday January 28th at the Houndstooth pub in NYC, the night before the SCBWI NY conference. I'm not going to the actual conference but the good thing about working in NYC is I can at least attend the parties! So if you're going to the conference please look for me and say hello! Kidlit drinks night will be bittersweet because it's an unofficial farewell party for Jen Hayley, who will be moving to the UK with Victoria Schwab a few days after kidlit drinks. I will miss Jen! She's my partner in all NYC YA events. Don't go, Jen! Or more accurately, come back soon, Jen!
Are you going to kidlit drinks? Let me know!
3. Speaking of SCBWI events, I'm pretty sure I'll be going to the SCBWI LA conference this summer. Is anyone else planning on going? As far as conferences go, I'm trying to decide if I should go to the RWA National conference, which is in NYC this summer. Or possibly the SCBWI NJ which is in Princeton, NJ and right near my parents' house. The dates of each conference don't quite work for me, that's the only thing giving me pause at the moment. Anyone planning on going to these?
And of course, I am DEFINITELY going to BEA. I'm already signed up and I can't wait!
4. As you may or may not know, Buffy Summers turned 30 years old yesterday. Buffy and I graduated high school the same year, so you know what that means for me this year? Bye bye 20's. I've got two months before that happens to me, but still. It seems odd. I mean, I still feel like I'm 16. I certainly
look
16 and sometimes still get carded at rated R movies. I write YA and feel like I relate more to high school students than 30-year-olds. I only read YA, watch TV shows that contain teen protagonists and if there are story lines involving adults, I generally lose interest. And it feels like just yesterday Buffy went off the air. But it's been almost 8 years, I know this because the show ended the year I graduated college–another chapter in our lives Buffy and I embarked on together.
LEFT: The original picture. RIGHT: This is a painting I did of Buffy Summers when I was in high school for my AP Art class. I manipulated it in a Corel Photo Paint, printed it, then copied it onto a giant canvas using a grid system and painted it by matching the colors in the little squares. I remember when I did it, I had no idea if it would even work. But this painting ended up inspiring my entire AP Art portfolio of celeb photographs digitally manipulated and then enlarged onto a canvas and painted that scored me maximum AP points. All these paintings now hang in my dad's office because he's an eye doctor and these are sort of optical illusions.
As I've discussed on this blog, I stopped watching Buffy (and pretty much all TV) during the 4th season for several reasons.
It was my freshman year of college and I had, um, better things to do. (Read: partying, rushing a sorority, and flirting with boys. Luckily there was no studying involved in my college experience thanks to being an art major. And one of those flirty boys ended up marrying me so I consider this a good decision.)
This is when I started writing seriously. I took a lot of creative writing courses taught at Syracuse University. I wrote a whole bunch of short stories, most of which eventually sold to literary magazines, and a novel that almost got me representation. It was, of course, set in college and though agents liked it, they thought it would be difficult to market. That being said, when I wasn't busy with my social life, I spent all my free time writing. I had to cut out something and since it wasn't going to be sleep, it was TV.
I was seriously HEARTBROKEN when Angel left the show and I hated Riley so much and just couldn't root for anything anymore. Had I known that Spike would become a love interest, I probably would have stuck around.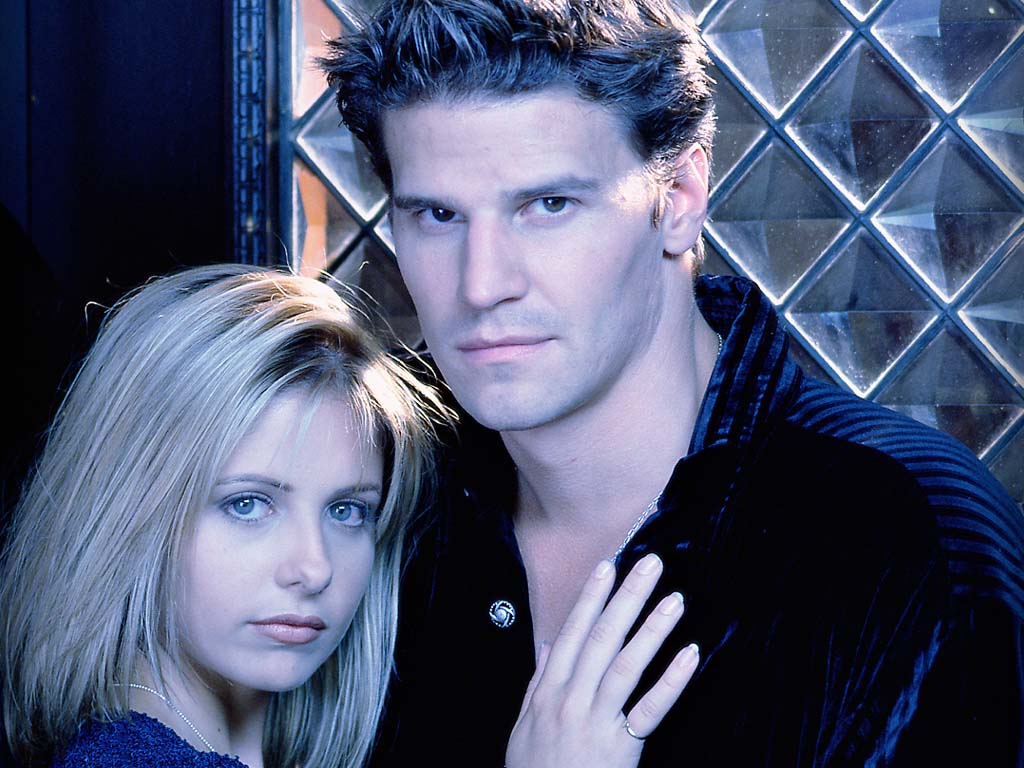 This picture used to be my textbook cover in High School because the WB had given free ones to my school. Also, I painted this but I don't have it scanned in. This painting currently hangs in the upstairs hallway museum at my parents' house. I did this in Junior year art, not AP Art, aka before I got creative.
For years my sister told me I should consider watching the last few seasons of Buffy. You see, I have a thing for bad boys who willingly turn good. I had loved Angel when the show first aired but my sister assured me I'd feel differently once I saw Spike. Last summer, I finally gave in. Truthfully, I expected to feel differently about the show on the rewatch, like it couldn't possibly be as good as I remembered it was. OH, how wrong I was. I loved it even more. It got to the point that I was watching 9 episodes a day because I couldn't STOP. My sister was right.
mmmmmmmShirtlessSpikemmmmm
This time around I didn't like Angel. I hated that he was CURSED to be good yet Spike CHOOSES it. Angel was broody and boring and had very little personality during the first few seasons of Buffy. Spike, on the other hand, was everything I love in a love interest. My particularly favorite trait is his jealousy over Buffy's other boys. I LOVE when boys get jealous over a girl. Love love love. Spike not only chooses to be good but in backstory we learn that he never really wanted to be bad in the first place. He only did it to fit in, but his ingrained nature leaned toward good. This is evidenced when he gets his soul back and not much is different about him. Sure, he's not trying to rape Buffy anymore but he's still pretty much the same.
Yum. I could just devour him. Why yes that was a vampire joke.
After Buffy, I moved on to Angel and devoured all 5 seasons. I didn't think I'd like it because at this point I really didn't care for Angel the character. And truthfully, he's my least favorite one on the show. I watched for yummy Wesley, quirky and fun Fred, badass Gunn, and oh yeah SPIKE in season 5.
I admit, I went into a bit of withdrawal after I finished both series thinking, OMG WHAT AM I GOING TO WATCH NOW??????? (The answer, it seems, is the UK SKINS, but I only figured that out yesterday.) So I turned to the season 8 comics, thanks to Jen Hayley. Which brings me to…
5. So I started reading the comics. I'd never read comics before and the change in medium made me constantly think of Marshal McLuhan and "the medium is the message." It wasn't the same, but it was all I had so I kept reading. The awesome fight scenes I loved became a single panel drawing depicting the impact of the blow. Dialogue would start in one panel but refer to the next one. It took me forever to figure out who was actually talking and in what order I should read the speech bubbles. All the characters looked relatively the same in drawing form. Dawn, Willow, Kennedy, I still can't tell them apart.
But it was Buffy and even though she and the writers made some strange choices based on what they'd spent 7 years establishing, I still enjoyed reading it.
And now season 8 is over. I can't wait for season 9 and I'm kind of bummed I'll be waiting until late summer for it.
I'm eager to discuss some things that happened in season 8, particularly the devastating turn of events in issue #39 or the extremely strange things that occur in the Twilight arc. So if anyone's read it, please head to the comments so we can discuss! Or email me at shanasilver at gmail dot com if it's too spoilery.