Monday Musings is a weekly event hosted by Jen Hayley, Shana Silver, and Chandler Craig that highlights some aspect of the writing life. Short on blog topics? Everyone is welcome to participate. All we ask is that you link to one of our posts and leave your link in the comments. We'll provide the following week's topic at the end of each Monday's post.
Today's Topic: Where do you go for inspiration?
You know how it goes. You're in a writing slump. You can't get out. You feel uncreative and uninspired.
But everyone has their little tricks to getting back in the writing zone. I'm not talking about the tricks that take you by surprise, like a new book you read that sweeps you off your feet and sends you into a writing frenzy because you remember how much you want to do that to someone else. I'm talking about the places you continually turn to for inspiration, the ones you *know* are always going to get you back in the groove.
So today I'll discuss what *my* tricks are. I'd love to hear yours as well! Feel free to blog about this topic and link us back to it!
For me, there are generally two types of things I need to constant renewal of inspiration for. The first is VOICE. The second is EMOTIONS. I generally never get stuck on plot or character. Those are things I can brainstorm my way out of. But when it seems like the writing itself sucks and I need a "voice pick me up" or I'm just not hitting the emotional impact of a scene, I have places I go to for help.
My inspiration mostly comes in the form of television shows. This is nothing against books, but  it's generally much faster for me to watch an hour show for inspiration than to re-read a fave book. TV leads to productivity!
VOICE
I tend to write books with a lot of humor and wit in them, so the best place I can turn is someplace that also has the kind of humor and wit I write. There are two foolproof places for that:
BUFFY THE VAMPIRE SLAYER
and VERONICA MARS.
The dialogue in both shows automatically puts me in the mindset to revise. Once I'm in the mindset, funny things just fly out of my mouth (or more accurately, my fingers). I'd be really awesome at witty comebacks in real life if I was able to fuel up by watching an episode of these shows.
Veronica and Buffy also helps when I need inspiration on characters. Each one is unique, quirky, and each one believes they are the star of their own show even though Buffy is the protagonist. That's an important thing to remember.
Also, there's Spike. And Logan. And I LOVE bad boys who choose to turn good. So watching these shows helps me remember what kinds of qualities I adore in love interests so I can apply them to my own books.
EMOTIONS
My So-Called Life
There are certain shows that just make me feel. They always put me in the teen mindset and let me tap into the emotions of the characters. There's one clear cut example I turn to for inspiration. The show is brilliant in the way it conveys the emotions of the characters, but since I was in high school (okay, Junior high) when this show first aired, it automatically brings me back to how *I* was feeling at that time.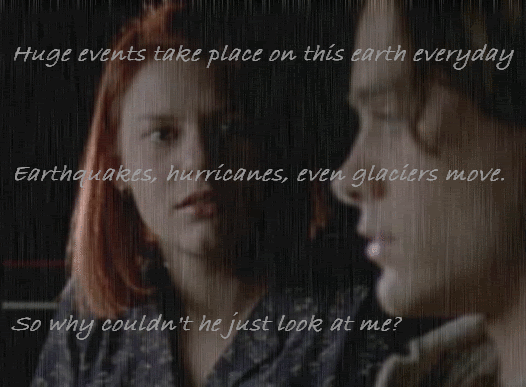 MUSIC
I also listen to 90s music because it's nostalgic for me and a lot of the songs remind me of emotions I was going through at the time.
If I need to write about a character whose pining after a guy she can't have, I listen to a variety of songs *I* listened to as a teen when I was pining after a guy I couldn't have. Not all of these are necessarily about that particular subject, but they bring me back to how I was feeling at the time. Some songs I might choose:
Strange Currencies by REM
Glycerine by Bush
Straight No Chaser by Bush
I Want You by Third Eye Blind
Motorcycle Drive By by Third Eye Blind.
Loneliness is Worse by Veruca Salt
El Scorcho by Weezer
Late at Night by Buffalo Tom (which I tried to make as my first dance song at my wedding but Hubs said no.)
Never is a Promise by Fiona Apple
If I need to write a scene where two friends are fighting, I might pull up these tracks:
Dangerous Type by Letters to Cleo (from the movie The Craft)
Venus Man Trap by Veruca Salt
One Last Time by Veruca Salt
Shadowboxer by Fiona Apple
I have songs for all topics but I'll spare you the other playlists for now.
Where do you get your inspiration from? Comment or blog on this topic!
And tune in next week where our Monday Musings topic will be GHOSTS OF REVISIONS PAST.
Shadowboxer by Fiona Apple