1. That my agent loved the first 100 pages of my retelling! She sent me some awesome minor revision notes which I spent Labor Day mulling over, and I'm now trying to incorporate those plus get the rest of the book polished and pretty. I have a lot to rewrite in the 2nd half because of things that changed during revisions of the first, but it will be well worth it. Trying to get as much done as I can before I leave for Spain on Sept 18 so I can send to my crit partners while I'm gone and won't have a chance to work on it. I'm so excited about this book!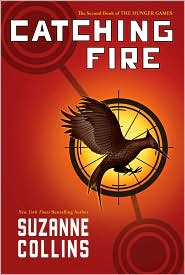 2. Catching Fire. I can't tell you how much I loved this book. I had a freak out moment near the middle where I considered not continuing because I thought it might be too violent, but I'm sooooo glad I did. I am Team Peeta, and I personally think Katniss is too even though she won't acknowledge it. But I will refrain from saying more to avoid spoilers. What I also like about these books is that my friends, aka real life non-writing friends, have all started reading them. Without me prodding them. So it's crossing over to mainstream! I'm lending Catching Fire to a guy friend from High School tonight who usually only reads Chuck Palahniuk.
Also I want to be Katniss for Halloween but I have no place to wear the costume to.
3. GLEE. This is my new obsession. I adored the pilot. I was worried the second ep wouldn't live up to my expectations but it did! I love how I'm already rooting for both love plotlines. And I think the cast is fabulous. Jane Lynch makes the best villain!
4. TV premiere week in general! Reality TV this summer didn't really do it for me.
5. What are you thankful for?